IISAC AND ENVIRONMENTAL PROTECTION
IISAC is an expert in the development of more than 20 different field study courses in tropical biology, loss of biodiversity, climate control and environmental sciences for visiting US university students in India. This was offered in various locations in South India from 2000 – 2018. Kerala, the south most state of India, is a biodiversity host spot. IISAC's partnership with Tropical Institute for Ecological Sciences (TIES), an approved non-profit environmental and biodiversity organization in Kerala, made it possible to implement some of the UNs SDGs in a formal set up.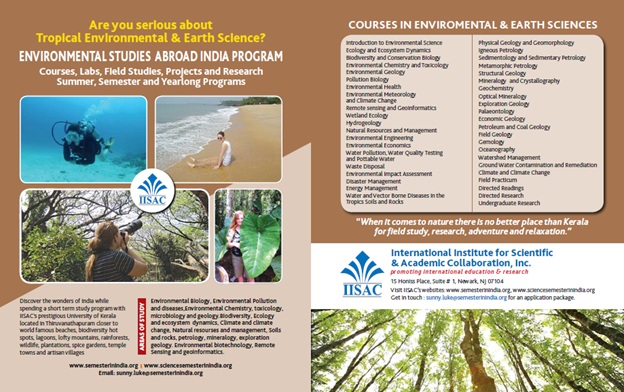 Tropical Institute of Ecological Sciences (TIES), a not for profit organisation, dedicated for environmental protection and conservation, established in 2004, stands for MAN and NATURE through education and practice: a synergy of science, tradition and environment. TIES has network with education and research institutions and aims to generate knowledge on environment to create an environmentally responsible community through interdisciplinary and participatory research. TIES is a registered charitable organization with 12A, 80G and FCRA status and is approved by Mahatma Gandhi University, Kottayam and Kerala state pollution control board as a site for environmental research. TIES has contributed significantly in the field of waste management, water conservation, biodiversity conservation, and organic farming through research, education and community development programs (www.ties.org.in)
a) The Joint Activities of IISAC and TIES in Kerala
Emphasis on field skills : identification of flora and fauna, biodiversity estimation, water and soil quality testing, natural and altered ecosystem analysis, statistical techniques, forest structure study skills, wildlife management principles, invasive species documentation, conservation techniques, identification of common birds, butterflies, amphibians, dragon flies, damsel flies, medicinal plants, timber yielding plants and non timber products.
Special emphasis on Western Ghats biodiversity: wildlife management, forestry projects, identification of flora and fauna, conservation projects, tribal community projects, endemic and threatened species projects.
Field visit to environmental NGO's organic farms, biogas and wind mill farms, spice gardens, plantation crops, vegetable farm and orchards, livestock farms, aquaculture and apicultures centers, environmentally challenged locations and eco-heritage centers like scared groves.
Several partner Universities from India & USA and faculty members from both US and Kerala conduct educational programs through lecture sessions, lab practicals and field search.
b) Implementation of UNs SDGs through IISAC & TIES in India
IISAC is currently implementing the following UN SDGs through TIES in India.
NO POVERTY (SDG1)
Apiculture for livelihood support, Eco-friendly products manufacturing by women's group, Community water programs (livelihood support)
GOOD HEALTH & WELLBEING (SDG3)
Quality checking lab service for communities (food, water, honey etc.), Organic farming & Natural farming programs, Waste Management Programs- minimizing health hazards & public health issues
QUALITY EDUCATION (SDG4)
Environmental Education (EE) Programs for all segments of the community, EE programs for school & college students, Enjoy learning, Enjoy Teaching & enjoy life, Transforming Anganawadis to sustainable learning centers
GENDER QUALITY (SDG5)
Women empowerment programs – energy & water conservation in homes; kitchen gardening; waste management (wealth from waste), Women scientist program (KSCSTE)
CLEAN WATER & SANITATION (SDG6)
Drinking water quality analysis services, Ecological studies on water quality, River pollution management, River conservation, Pond conservation, Rain water harvesting, Water conservation measures in daily life, Handmade water filter for post flooded scenario, Water audit for institutions and home, Water & sanitation project (JALANIDHI) at Meenadom GP (World Bank supported)
AFFORDABLE & CLEAN ENERGY (SDG7)
LED bulb assembling for Kudumbasree women, Energy conservation measurements in daily life, Energy audit for institutions and home, Solar & wind energy consultancy services
SUSTAINABLE CITIES & COMMUNITIES (SDG9)
Urban gardening for biodiversity conservation, Community projects- organic farming, waste management, Bees for life (apiculture for sustainable ecosystem & livelihood)
RESPONSIBLE CONSUMPTION & PRODUCTION (SDG11)
Organic farming, Natural farming, R & D, production and marketing of bio pesticides, bio fertilizers, growth promoters, Bees for life –apiculture, Good food for nature and man (Pollution management studies; poison free foods)
CLIMATE ACTION (SDG13) Resilient paddy cultivation techniques, Flood free land programs – rejuvenating water sheds
LIFE BELOW WATER (SDG14)
Fresh water aquatic fauna conservation, Native fish introduction in rivers
Introducing Yacht fishing boats for fishermen to reduce CO2 emission to 20% level by supporting the project of Kerala Water Sports & Sailing Organization (KWSO)
LIFE ON LAND (SDG15)
Biodiversity conservation, Biodiversity estimation, data bank etc., Thematic gardens, Freshwater aquatic flora and fauna conservation, Riparian forest rejuvenation
c) IISAC and Environmental Protection Programs
The pattern of Monsoon season is changing in Kerala due to the climate change. Heavy floods cause landslides especially during the rainy months of July and August. Global warming and wide spread deforestation are considered as the major causes of landslides in Kerala. Change in the cloud pattern is also attributed to the heavy rainfall on concentrated area. This is another reason for the landslide in Kerala
IISAC in association with the Department at Geology of the University of Kerala is working for promoting UN's SDGs 6 and 13. Prediction of future land slide disaster in Kerala and ground water monitoring are the two major projects under taken to support SDG 13. Heavy metal contamination in water is another project going on with the department of Geology supporting SDG6.
d) IISAC Hillside Farm, Garden and Nursery
IISAC's founder chairman Prof. Dr. Sunny Luke established a three acre farm and nursery in Thiruvanchoor, Kerala, India to support UN's sustainable development goals in areas SDG 11 (Responsible consumption and production), SDG 4(Quality Education) SDG 3 (good health and well being) SDG 1 (no poverty) SDG 9 (sustainable communities) SDG 14 (life below water) and SDG 15 (Life on land). The farm established in 2019 has a collection of 1000 verities of ornamental plants, a specialized farm nursery for agriculture crops and vegetables, edible and ornamental fish ponds, aviary and poultry (chickens and ducks)

Open the website www.hillsidegarden.in for full information
Hillside farm, garden and nursery is a source of attraction for students of all ages for serious field studies in agriculture, horticulture, aquaculture, apiculture, aviary, poultry, organic farming, hydroponics, vermicomposting, plant pathology, green house and poly house cultivation.
IISAC's Hillside Garden provides a special service called "Green day program" for children with developmental disabilities to spend a day in the farm as lovers. This program emphasizes on farm activities to improve their developmental, social and communication skills.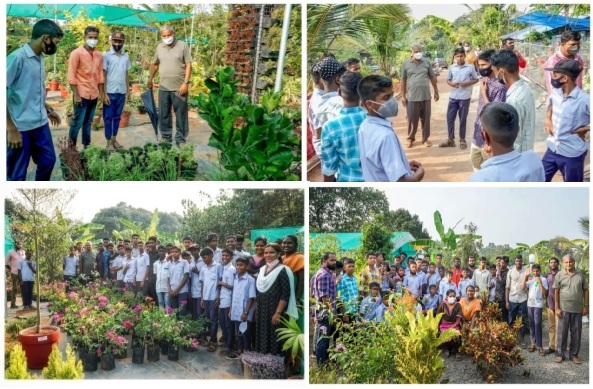 e) IISAC's Earth Ambassadors' Program for Young Adults
This program is jointly developed by IISAC and TIES to support UN's SDG 4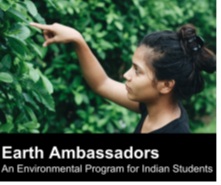 Planet Earth and its changing environment affect all 7.5 billion of us. We require clean water, fresh air, rich biodiversity and solid land to live on. We are on a revolutionary endeavor to make a positive dent on the planet we live in, beginning with Kerala, India. Kerala has been in a fragile state since experiencing severe floods that took the lives of 483 people 2018 with damages exceeding US$5.8B, a clear example of how nature affects our communities. We have a vision for the next generation to lend their innovative thinking, voices and commitment to help save our most beautiful and wonderful planet, Earth Ambassadors program is designed by IISAC as an environmental learning program for students aged 10-24 from regional schools and colleges in India. The aim of the program is to create a true grassroots movement towards an improved local environment.
The program's singular goal is to identify, educate, and empower students who have shown a keen interest in immersing in, learning about and protecting the environment. These students will help to raise environmental issues at their schools and bring attention to their classmates on how they can devise and implement innovative solutions to local environmental issues.
IISAC selects students who have a passion for the environment, and will attend a series of workshops. They will go deeper into their understanding of the environment. Through a series of exercises and field work, the students will learn firsthand about the state of the planet, local measures, and inspire each other. On returning to their respective schools and college students can integrate knowledge gained from the program into their institution. At each school, students may run programs to refocus attention on the environment and enlist teachers and staff to support tangible solutions in schools (eg: creating an organic farm, pollution control, disease control, composting, recycling)
CURRICULUM
Unit 1: Mother Earth
Unit 2: Weather, Climate and Climate Change
Unit 3: Life, Classification, Plants and Animal Biodiversity
Unit 4: Ecology, Habitats & Interdependence and Ecosystems
Unit 5: Environment Modifications and Crisis
Unit 6: Environment, Nature Conservation & Environmentalism
Unit 9: Saving Planet Earth programs, Government policies: International, National and Local
Unit 10: Lab and Field activities for teachers and students
Unit 11: Translational activities at schools and communities
Unit 12: Go Green as a lifestyle and religion
Unit 13: Check your knowledge; Glossary, keywords, matching the terms, short questions
How to Protect Mother Earth
The message is clear "temperature is rising and rivers are dying" How to beat the rise in temperature
Increase the green coverage
Curb Carbon Emission
Protect all water resources
Reduce pollution
Stop creating concrete jungles
Protect environment from further degradation
Use alternative energy – solar, wind or wave
Use electric vehicles
Conserve water
Use more cotton dresses
Take home message: "Humans are causing climate change and let us pledge to protect our planet earth. Become an IISAC Earth Ambassador.
f) IISAC's Biodiversity and Environmental studies short term programs and in India for foreign University Students
Since 2000, IISAC is offering various short term study programs for US university students in India in the fields of Tropical Biodiversity and field ecology, environmental and earth sciences, tropical agriculture and horticulture, aquatic sciences and marine biology, Ayurvedic biology and Herbal medicine. This short term study programs support UN's SDG4, SDG6, SDG13, SDG14 and SDG15, and IISAC associates with University of Kerala, KIIT University, Bhubaneswar, Odisha, Pondicherry University and Tropical Institute of Ecological sciences, Kerala in offering more than 100 courses for visiting US students for transferable credits.
Kerala known as "Gods own country" is a mega biodiversity hot spot in India. IISAC's acclaimed study in Kerala is ideal for students to learn tropical biota, ecosystem diversity geographical features and loss of biodiversity, climate change, renewable energy, forestry and wild life biology – through faculty – led, semester and yearlong programs.

Courses in Environmental & Earth Sciences
Introduction to Environmental Science, Ecology and Ecosystem Dynamics, Biodiversity and conservation Biology, Environmental Chemistry and Toxicology, Environmental Geology, Pollution Biology, Environmental Health, Environmental Meteorology and Climate Change, Remote sensing and Geoinformatics, Wetland Ecology, Hydrogeology, Natural Resources and management, Environmental Engineering, Environmental Economics, Water Pollution, Water Quality Testing and Potable Water, Waste disposal, Environmental Impact Assessment, Disaster Management, Energy management, Water and Vector Borne Diseases in the tropics Soils and Rocks, Physical Geology and Geomorphology, Igneous petrology, Sedimentology and Sedimentary Petrology, Metamorphic petrology, Structural geology, Mineralogy and crystallography, Geochemistry, Optical Mineralogy, Exploration Geology, Paleontology, Economic Geology, Petroleum and Coal Geology, Field Geology, Gemology, Oceanography, Watershed Management, Ground Water Contamination and remediation, Climate and Climate Change, Field Practicum, Directed Readings, Directed Research, Undergraduate Research
IISAC's UN SDGs Consultants in Biodiversity and Environmental Protection Program
1. Prof. Dr. P. P. Mathur
2. Prof. Dr. Punnan Kurian
3. Prof. Dr. Saji Baby
4. Prof. Dr. Shaji E
5. Prof. Dr. Sunny Luke
6. Dr. Shivadas Menon
7. Prof. Dr. Harikumar
For additional information contact iisac.nonprofit@gmail.com