IISAC AND SOCIAL EMPOWERMENT
IISAC works with AKSHARASTHREE an NGO of educated women of Kerala, struggling hard to establish a "space" for women in the community while inspiring them to act as catalysts to prevent marginalization. Social empowerment is their goal to help women, children and members of the tribal community for empowerment like social belonging, self esteem, good health, literacy and opportunities for progress.
Since 2015 Akshrasthree conducted several workshops, seminars, various competitions to give awareness and published more than fifty books with themes for social empowerment. Some of their current activities are as follows
Enhance reading habits among girls and women
Encourage personal and intellectual growth
Accelerate creative response
Build up self-esteem and creativity through reading, writing, discussion, and discourse.
Equip women to present their own works and accept constructive criticism
Launch a library and Women's Study/Research Centre
Encourage mothers to build up the reading habit of their children
Conduct literary-related seminars. workshop, contests, etc. regionally, nationally, and internationally
Strengthen and regularize Reading and Story Sessions/ Creative Writing in schools from the Primary level onwards
Expand publication for women by acquiring a Printing Press for Offset Print and Print on Demand
Launch a print magazine
Make unemployed members of the association earn some income
Help women writers who are financially unequipped in publishing their works
Construct a Centre for women and girls to stay and write
Conduct programs and train the physically challenged, the blind, and the osteopathic girls
Akshrasthree is now associating with IISAC to provide several of the UNs SDGs in Kerala, especially SDG 3, SDG 5, SDG 8 and SDG 10. For this purpose, the following activities have been identified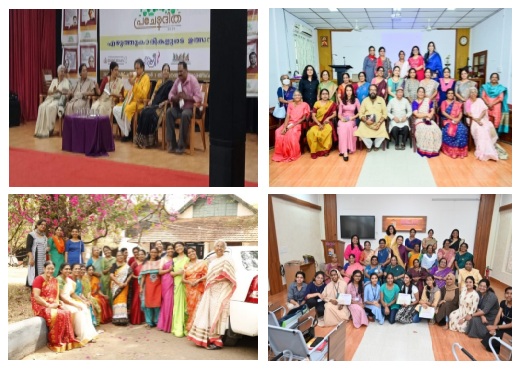 a) Women Empowerment: Adivasi/Indigenous Community
Adivasi/Indigent Community or Native people deserve empowerment in some areas. They live in harmony with Nature, without spoiling and wasting Nature and natural resources. As their life is tuned to the music of the environment, it will be harmful to remove them from their habitat. They must be having the oral traditions and legacies of many art forms and music apart from their knowledge of indigenous medicine, treatment, etc. At the same time, they can be taught reading and writing, and introduced to essential skills. There can be an exchange of art and cultural forms or representations with this community. The best practices can also be exchanged. The so-called civilised community can imbibe their love and preservation of Nature and environment. The indigent community of any nation must be given the best care, and resources must be protected.
b) Promote reading habits and a sense of responsibility among children/students
Children are citizens of tomorrow. We can allow them to inculcate the reading habit for the full development of their personality. Reading will enable them to think and co-ordinate their actions. It will also encourage them to enter the arena of writing as well. In the present day, children are not allowed to grow up as responsible citizens. People are more conscious of their rights rather than their duties. From early childhood, they must be given the training to imbibe a healthy sense of responsibility. If they are disciplined in this way, they are not likely to go wayward and fall prey to illicit practices.
c) Awareness program in substance abuse
Our youngsters are trapped by the drug mafia. As a result, they lose their life and career, and they are forced to vegetate their life. Schools and colleges must be targeted in the fight against the drug. The elders of various categories must jointly work for the proper channelizing of the energies of the youngsters. A responsible person will become a good citizen who works for the society.
d) Gender - based violence
Much violence is directed against women and girls. They are not at all safe in our country. It is pitiable that there is no basic respect or rather consideration for them in the society. Women and girls cannot safely travel after 6 pm, and the atrocities against women are horrid. A proper handling of the police and other circles involved is badly required.
e) Equal participation in leadership and policymaking for women
It is sad to see that the promise of 50 % seat in the parliament and assembly remains unfulfilled. Majority of women refuse to come to the front owing to several reasons. The resistance from their own family is a strong factor against their engagement in politics and democratic systems of administration. The male-dominated society is still biased against inclusion of women in politics and administration. The general morale of people continues to be low in their treatment of women in home and public place.
f) Emotional wellness among elders
Elders are insecure in today's world. They experience neglect at home and outside. Lack of social security is a major problem. The situation is pathetic in the case of those who do not have any pension after their service and those who did not have any regular pensionable work. Community services are essential to keep them engaged and useful after superannuation. Their emotional well-being has to be given additional priority to lead a meaningful and pro-active life. Their many-sided resources can be utilized for their neighborhood, and community at large. There are no proper or adequate agencies to channelize their energy and resources in a productive manner.
g) Reviving Rivers: Environmental Issues
The environment as a whole is facing serious threat in the present day. Rivers are most adversely affected by unprecedented pollution owing to indiscreet misuse. As a result, scarcity of water is being escalated at an alarming proportion. Though there have been clarion calls to save our environment and to save our rivers, nothing feasible has really turned out. The general consciousness of the public and governmental departments must be awakened to educate the common man and implement the necessary steps to root out this dire problem.
h) Awareness of Ethical footings among children
Today's children are grown in a totally unreal world without any sense of responsibility. No awareness in created in them about the importance of the role they have to play once they finish their regular education. They should be trained in such a way that they must grow up with the idea that they owe their society for everything they get and they must be grateful in giving back their services. Moreover, when they are young, they should be provided with an awareness of our ethical footings as India is blessed with the legacy of a strong ethical footing. Man as an ethical being can contribute greatly to the moral and spiritual growth of the people.
i) Life coping skills
Training in life coping skills is seriously needed in our present scenario. They may be little bits of things, but it helps a person to know the art of living and to lead a healthy life. There are innumerable skills that may come to our help to lead a successful living. It can be motivational. Some skills help person to face a situation and solve problems. You will be equipped to reduce your tension and stress and lead a pro-active life. There are skills that strengthen our mind and psychological health. Healthy habits can be inculcated. It will give us tips to lead a healthy life with good sleep, nutritious food, sound sleep, regular exercise etc. Some are problem-focused strategies; some are emotion-focused strategies. It will help us to lead a meaningful life.
j) Women Empowerment through Writing
The Pen is mightier than the sword" coined by English author Edward Bulwer-Lytton in 1839, has become proverbial as it suggests that the written word is more effective than violence as a means of social or political change. The word is powerful. It can create, preserve, and even destroy. Women must be encouraged to write effectively, voice their sentiments and ideas, and establish their status in society. They can work for the downtrodden in the literary field, and real revolution can start through letters.
Toleration, mutual respect, and self-sacrifice were advocated by Mahatma Gandhi for becoming better citizens. He who believed in non-violence, and who wanted the statesmen to think first of the poor and the have-nots when they take any decision, said, "Be the change that you wish to see in the world. "John F. Kennedy said, "The time is always right to do what is right." We are a group of women who are empowered by a sense of duty and commitment towards society and underprivileged women.
IISAC's UN SDGs Consultants in Social Empowerment
1. Prof. Dr. Aniamma Joseph
2. Prof. Dr. Lalitha Mathew
3. Prof. Dr. Tessy Tom
4. Adv. Cyric Thomas
5. Dr. Babu Joseph
6. Ms. Meethu Kalam
For additional information contact iisac.nonprofit@gmail.com