IISAC AND CHILDREN WITH DEVELOPMENTAL DISABILITIES
IISAC's SDGs program – No child left behind. This program overlaps with many SDGs
IISAC supports one of the most important SDGs goals of the UN in the field of young disability focusing on children with neurodevelopmental disorders. We like to uphold the UNICEF motto "every child has the right to live in an inclusive world while protecting their rights and safety". It is estimated that 15% of the young population in the world suffers from some form of disability. When children born with neurodevelopmental disabilities are considered separately, close to 250 million have disabilities present from birth to death (Womb to Tomb). Autism, Down's syndrome, Cerebral Palsy, Fragile X syndrome, ADHD, Spina bifida, Rett syndrome, Learning difficulties, hearing, speech and vision impairments are some of the disorders that dominates in this marginalized group of our society.
What IISAC does in the area of developmental disabilities?
IISAC associates with UN SDGs in providing support and services to institutions that house children with developmental disabilities by writing CSR grants on their behalf, identify experts in the field to serve as consultant to improve the services of their institutions to create a better world for children with developmental disabilities.
Support services that track early childhood development especially with delays in mile stones in the first three years of life.
Support services that aim for better pregnancy management to prevent some forms of preventable birth defects.
Provide parenting tips for the first three years of life of an infant to watch for any sign of global developmental delay.
Support services that improve nutrition and health care for children with disabilities.
Support services that provide educational support to make them fit into the society and seek for work in the future.
Provide consultations to reduce barriers that limit their ability to functions in daily lives like physical barriers, communication barriers, health barriers and attitudinal barriers.
Develop public awareness to improve negatives surrounding children with disabilities such as stigma, devaluing human dignity, non inclusiveness, stereotyping, and harassments and bulling.
Work towards an inclusive world for children with disabilities as suggested by UNICEF
IISAC's affiliation with Asha Bhavan & Charity World Trust Jimmy Padanilam Center, Chanagancherry Kerala.
Through an MoU, IISAC affiliates with Charity World Trust Jimmy Padanilam Center for promoting UNs SDGs in the field of young and old disabilities. Asha Bhavan, the institution for mentally challenged under the administration of Charity World Trust Jimmy Padanilam Center, gives 24 hrs accommodation, food, special schooling and medical care for close to 200 inmates who suffer from congenital birth defects with multiple disabilities. The history of Asha Bahvan is commendable (https://ashabhavan.charityworld.in). When the services of Asha Bhavan is combined with Charity world Trust Jimmy Padanilam center, more than 30 different activities are ongoing where IISAC serves as a consultant and facilitate in providing professional help, raising charity funds, writing various forms of grants and helping with innovations and technology to reduce and or manage disability.
The current facilities and services provided to the members of marginalized society in Kerala through Asha Bhavan and Charity World Trust are given below:
24 hours residential facility for more than 200 children with mental challenge and physical disabilities.
Kerala Govt. Recognized B grade special school to provide individualized education.
Fully equipped therapy center with professional staff trained in physical therapy, occupational therapy, behavior therapy, recreational therapy and hydrotherapy.
Vocational training center for children with developmental disabilities.
Integrated farm school and production center for skill development.
Motivational classes and regular workshop for parents and teachers.
Behavioral therapy, psychological consultations and counseling.
Society integration programs to make the specially abled children successful.
Special coaching for students to participate in sports, dance, music and painting.
Rainbow club – support group for parents affected with developmental disabilities.

In addition to the above combined facilities and services of Asha Bhavan and Charity world Trust Jimmy Padanilam center, the following special programs are offered for senior citizens.
Mobile ICU units with drips, ECG, emergency medicine, emergency medical technologist, ventilator, defibrillator etc.
Mobile laboratory, blood donation & palliative care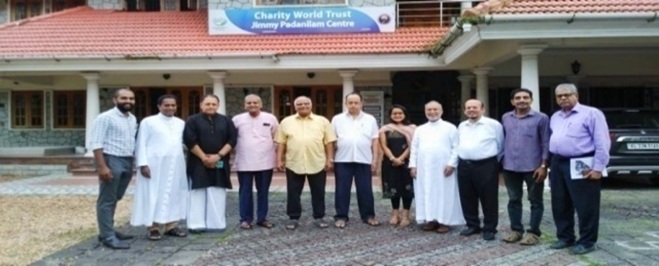 Administrators & Advisors of Charity World Trust Jimmy Padanilam Center. Changanacherry, Kerala, India.
Dr. George Padanilam and Fr. Sebastian Punnassery are the CEOs of this charity trust
IISAC's affiliation with JIMPIRE – Child Development Therapy Center.
JIMPIRE, the child development therapy center is a special division of Jimmy Padanilam Center, catering the physical and intellectual rehabilitation needs children born with neurodevelopmental disabilities. This is a multidisciplinary institute with six specialized department. They are: Occupational therapy, Speech and language therapy, Developmental psychology, Physiotherapy, and social work. Together these departments offer early interventional therapy when newborns and children are diagnosed with neurodevelopmental pediatricians or pediatric neurologists (www.jimpire.org).
IISAC and Brain Research Center
In future, IISAC is planning to initiate a Brain Genome Research Centre in central Kerala to pin point the type of genetic changes observed in the children born with neurodevelopmental disabilities. It is now understood that the dysfunction in the brain genome combined with environmental insults cause most of the developmental dysfunctions. The brain research facility will help to identify the type of genetic alterations in an affected child, its clinical diagnosis and recommended therapeutic interventions. This facility will introduce cutting edge technology to identify gene changes, chromosome changes, genome changes and epigenetic changes in this group of children for better diagnosis, prognosis and medical management. To improve communication in children with special needs, the proposed research center will utilize the benefits of AI (Artificial Intelligence) and Machine Learning.

IISAC's UN SDGs Consultants in Neurodevelopmental Disabilities & Rehabilitation
1. Dr. George Padanilam
2. Prof. Dr. Abraham Kuruvila
3. Prof. Dr. Achuthshankar
4. Prof. Dr. sunny Luke
5. Mr. K. B. Kumar
6. Prof. Dr. Tessy Tom
7. Dr. Praveen Pai
8. Dr. Shaji George
For additional information contact iisac.nonprofit@gmail.com